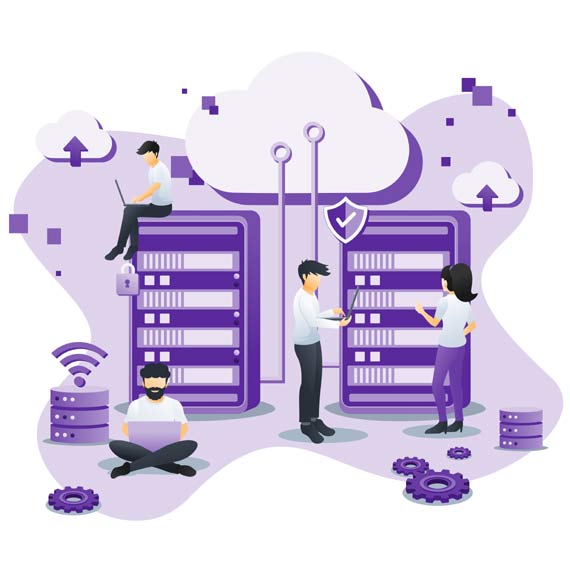 Web hosting is an online service that enables you to publish your website or web application on the Internet. Web hosts are companies that rent out their services and technologies to host websites on the internet. When you sign up for a hosting service, you basically rent some space on a physical server where you can store all the files and data necessary for your website to work properly. Once the hosting company hosts your website, users can directly access it by typing in your web address (domain name) in their web browser. When they do this, their computer connects to the server, where your website is hosted.
Web Hosting provides webspace (Bandwidth, Disk Space, RAM, Uptime) to your website and keeps all the web pages of the hosted website on its server. The main purpose of hosting is to give easy access to your website over the web. If you are planning to create a website, then hosting is the most important factor. Having a reliable and high performing hosting is very essential for any successful websites. So in shoet, Web hosting is simply a storage space that you have rented on a web server to store the files of your website.
People think purchasing the
domain name
is sufficient to make the
website
live for all over the world. But the domain name is basically the name of the website to remember easily, then that time we need a web hosting. Technically we can connect our computer to the internet to serve the pages to the users. But, it is not practically possible because, household internet connection is not capable to serve many visitors at the same time period, so hosting providers make it possible for us to our website will be accessed by everyone at the same time. Because they have their own powerful web servers to store the website files with the high-frequency connection. Web hosting companies are not only providing the hosting solutions but also offers some value-added services like some add-ons, affiliate program, etc.
We can help you in selecting best hosting service for your website project. We suggest our customers to opt for a hosting plan with unlimited SSD space, unlimited bandwidth and with 99.9% of uptime. Web server has direct influence in
search engine optimization
of your website. Speed of server, location of server, etc influence search engine optimization of website hosted in that server.